Suzanna Ross is a singer-songwriter based in New York City. The songs she has written (words & music) include There's No Tellin', Change moi (Change Me), Don't Like Cryin', After the Dancing Ends, Pour toi je chanterai, and Make a Brand-New Start. They have reached half-a-million streams. 
The French version of Change moi (Change Me) is out now with the English version coming in December. 
Suzanna's song, Don't Like Cryin', was featured as SONG OF THE DAY on ALL ABOUT JAZZ, and her cover of Ces petits riens was SONG OF THE DAY on JAZZIZ.
Suzanna sings jazz, French chansons, pop, and more, and has performed at NYC's Metropolitan Room, Don't Tell Mama, Triad, Pangea, TOMI Jazz, Jamaica Center for Arts and Learning, and at the famed jazz club in New Jersey, Trumpets. Her music has been heard on radio stations in the U.S., France, Europe, UK, Australia, and Africa. She has produced a CD, Bewitched - Not Bothered, Not Bewildered, with  Gregory Toroian, and a show, Make a Brand-New Start, with Tedd Firth. She has the pleasure of singing with many wonderful musicians, including musician and arranger, Daryl Kojak, and guitarist, Kevin Lutke.
"She's played some of the premier New York City clubs... and does so again with class and impeccable taste. If you close your eyes and listen to her vocals, you may think the spirit of Edith Piaf has been awakened, especially when she sings in French.  Ross' execution is musically satisfying, making engagement easy.  Suzanna Ross offers a first-rate musical journey..."  Ellen Woloshin, MUSIC CONNECTION 
"Suzanna Ross' debut album has much sophistication. The inspired range of songs... features not only some of the most glorious American songwriters... but some marvelous French composers and lyricists... one can almost inhale the scent of Gauloises in the air... it appears she has been influenced by Peggy Lee, whose aura is evident in several songs... "My Favorite Things" and "Laura" are both winning presentations... For those who have not heard it performed this way, "L'arc en ciel (Over the Rainbow)" is stunning." Jerry Osterberg, CABARET SCENES MAGAZINE
"Amazingly, this is the debut recording for Ross.... she reworks these classics with her incredibly rich and imaginative vision...  puts her versatile pipes to good use. On "Laura", Ross really gets creative with her art.  "Live For Life" as Ross exits with a flawless execution and a timeless appeal." Tom Haugen, TAKE EFFECT
"Suzanna Ross has emerged as one of the most versatile jazz vocalists on the scene... Ross' vocals are powerful yet tender with a unique, fast vibrato. "My Favorite Things," "Over the Rainbow," and "Mr. Wonderful" have been recorded dozens of times but Ross adds a deeply personal touch that makes these covers unforgettable. Ross' marvelous vocal vibrato makes every nuance special. On "C'est petits riens" Ross evokes the spirit of a true French chanteuse... A timeless jazz vocal recording fit for music lovers of all kinds. Don't miss out on this one." Doc Wendell, LA JAZZ SCENE
"Song of the Day - Ces petits riens... Suzanna's winning voice and a full-bodied bass to boot," JAZZIZ
"There is a kind of smooth flowing magic about all these pieces... Suzanna has a deceptively simple approach to jazz singing, giving straight readings mainly but employing a method of putting the lyrics across in a story telling fashion.  The nineteen forties movie theme Laura is a standout track with Ms Ross singing it slowly, in melancholy, almost ghostly mood, conjuring up the film atmosphere perfectly. She sings in both English and French on Over The Rainbow but never deviates from a story telling manner. This is a straight ahead, unpretentious set of vocals with rhythm and very enjoyable to listen to." Derek Ansell, Jazz Views, UK
"It's absolutely unbelievable that someone in each of these genres manages to sing so convincingly. Suzanna Ross captivates the listeners of this album with her easy approach to jazz singing, warm voice and refined performances.  Through many years of chanson, she gained the ability to make her performances look like storytelling... although she always leads them all to jazz." Davor Hrvoj, Sound Guardian (Translated from Croatian)
 "Suzanna Ross is heard in winning form through her enjoyable set, an easily recommended CD that gives listeners the perfect opportunity to discover the warm singer... it is difficult not to be impressed by both her inviting voice and her versatility. There are no throwaways on this set... and sings quite effectively in French." Scott Yanow, jazz journalist/historian
"She had me at Bewitched! Not the Songbook standard that Suzanna Ross' clever album title humorously references, but a snappy, sexy, and swinging bass vocal-driven twist on the classic TV show theme, little heard lyrics and all... wonderfully fresh interpretations... not only an engaging debut but a true master class in jazz eclecticism."  Jonathan Widran, The JW Vibe
"The Female Voice... delicate and bohemian on "Ces petits riens" and "Parlez-moi de lui" while floating richly on Tom Jobim's "Dreamer" for a bit of bossa from Brazil." Most clever is the creamy take of Kenny Rankin's "Haven't We Met," a cute read of the TV show "Bewitched" and a poppish boomer tune out of the close, "There's a Kind of Hush." Clever in spades." George Harris, Jazz Weekly
"...knows her way around a world of songs... The debut of a vocalist you'll love spending some time with, this record finds her nice enough to bring her New York stomping grounds to your ear buds.  A thoroughly enjoyable set." Chris Spector, Midwest Record
"An enthralling collection," Anne Carlini, Exclusive Magazine
"...this kind of vocal jazz puts the "ultra" in "ultra cool." I give Suzanna and all her players a MOST HIGHLY RECOMMENDED rating... for this splendid release.  ...fifteen superbly performed jazz vocals Suzanna presents for your jazz joy." Rotcod Zzag, Contemporary Fusion Reviews
"Her voice may recall Peggy Lee: attractively husky in a way that, in the less sunny selections suggests vulnerability or, depending on the song, a wounded but valiant spirit...  the cheery theme from the 1960s TV sitcom "Bewitched," with the rarely heard lyric... it's a charmer—a word that can pretty much apply to the singer herself and her set of songs. Pianist Gregory Toroian's expert and sensitive arrangements are supportively with her phrase by phrase, very much painting mood pictures exquisitely, especially on "Laura"... Emotion, especially yearning, comes through in the several tracks that have the songstress crooning in French...  "Mr. Wonderful" is Suzanna Ross at her cozy, caring best... I am a bit more bewitched with every spin of this set." Rob Lester, Talkin' Broadway
"Her joyful and communicative voice conveys a good feeling to the entire record, together with the band, very good at filling the performances with swing - the understanding is perfect. It is a combination of factors that makes listening enjoyable. A beautiful soundtrack for the upcoming summer," MusicZoom, Italy (Google translation)
"No matter the material, Ross knows how to effectively approach it. She has produced an impressive first recording," Joe Lang, July-August 2020 issue, Jersey Jazz
"One fine voice sharing many favorite songs...this is a fine intimate conversation with a solid artist," Grady Harp, Amazon
 "You are in for a treat with this new show, Bewitched....a song for every taste." Theater Pizzazz
"A magical journey... passionate,"  Broadway World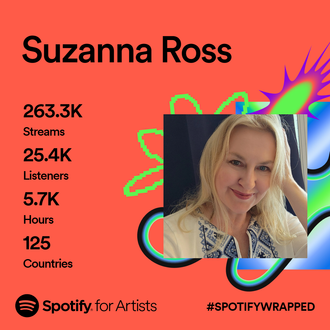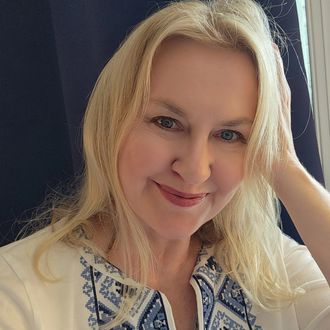 Change moi out now on Spotify
Change moi preview video below!